IP-WARP
Features & Benefits
IP-WARP is a simple, reasonable, and secure overlay VPN service suited for network ready devices such as multifunctional printers, video cameras, and other terminal devices.
Our unique technology provides easy implementation of additional private networks into any existing network environment, regardless of device type or location.
Recommended Uses
Retail Stores and Offices

For High-secured networks such as POS systems, electronic payment services, and corporate accounting systems.

Specialized / customized networks

A new overlay VPN can be created without any changes to the setting of existing network devices.
Detail (IP-WARP Embedded Type)
A solution specifically designed for network equipment such as POS terminals and electronic payment terminals.
The norm for POS terminals, credit authorization terminals (CAT), and other network terminals with private IP addresses disallows external access via a "normal" Internet connection. Many businesses face significant running costs along with a great deal of labor managing the creation, configuration, and design for networks enabling access between specific terminals and the center.
Our unique technology brings innovative solutions to solve these issues. IP-WARP offers an "in-device" solution by embedding VPN access software in terminals with private IP addresses, allowing connections over "normal" Internet.

Advantages
IP-WARP allows devices within different network environments to "WARP" safely and simply into other specified networks.
The unique tunneling technology is the first of its kind in Japan. Combined with signal encryption, IP-WARP offers the ability to create an high secured network environment.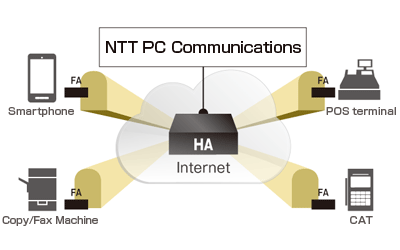 NTT PC's Unique Tunneling Technology
IP-WARP guarantees a secure, direct virtual connection of devices within a distant LAN network, including connections via the public Internet. This is made possible by tunneling technology developed exclusively by NTT PC Communications.
A Home Agent (HA) is located in a durable data center provided by NTT PC Communications. A Foreign Agent (FA) is installed on the devices, which are then connected to the HA by tunneling, establishing an additional, virtually dedicated connection over the ordinary Internet. A direct network between devices can be created easily without having to mind firewalls, NAT, and other pre-existing network attributes.
High Reliability
In case of network connection failure, tunneling connections will automatically regenerate. Home Agent (HA) failures are detected automatically.
Encryption Methods
AES is supported.
Diffie-Hellman Key exchange protocol is employed for safe connections over the Internet.
FA Diversity
FA software to be installed on devices can be used with various kinds of interfaces. We also have plans to introduce driver and browser variations in the future.
*The followings are patent acquisition countries for our tunneling technology.
Patent Number: Japan 4231042, Korea 10-0949355, China ZL 2006 8 0042934.5, EPO 1950918,USA 8717941
Network Configuration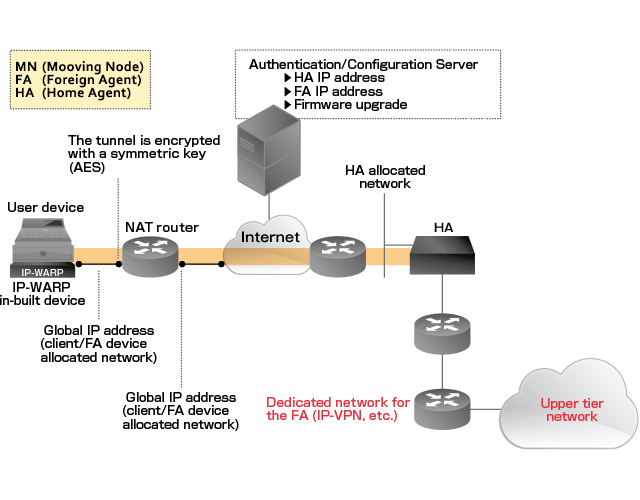 Please address all inquiries regarding this Service to : warp@nttpc.co.jp
"IP-WARP" is registered mark of NTT PC Communications in Japan.